Holle Bio-Minis Baby Rusk (100g / 3.5 oz)
Holle Bio-Minis Baby Rusk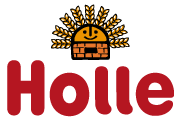 Perfect shaped rusks for small baby hands
Holle Bio-Minis Baby Rusk with natural honey and butter
Suitable for infants from the 8th month
Ideal snack between meals
Ideal for making paps
100% Demeter quality ingredients
Does not contain



Holle Bio-Minis Baby Rusk

Use
Holle Bio-Minis Baby Rusk, is suitable for babies from 8 months. It is ideal as a snack for in-between.  Baby can train chewing muscles and biting skills. Preparing tasty baby rusk-paps is simple. Crumble 3 – 4 Bio-Minis in a clean bowl and add some of your baby´s milk. Fruit juices or water ( previously boiled ) can also be used. Give it some time until the baby rusks soften. Mix into a smooth puree and feed with clear spoon. (recommended: Holle Baby Spoon, PVC & BPA free)
Production – Ingredients

Only premium organic ingredients with Demeter certification are used in the production of Holle Bio-Minis Baby Rusk. The rusks are unsweetened and free from eggs. High Fructose Corn Syrup (HFCS) is not an ingredient of any Holle product. HFCS is not used because of any health benefits, but because it is sweeter and cheaper to produce than cane sugar. This artificial sweetener is anything but healthy.
The number one cause of the childhood obesity epidemic is the overconsumtpion of HFCS, which is included in many US formulas.
Also the Holle Baby Rusks do not contain dairy,  no wheat, no salt and no palm oil.
Allergy warning: The Holle Bio-Minis Baby Rusk are made with wheat flour so they naturally contain Gluten.
Please note

Please only give your baby Holle Bio-Minis Baby Rusk under supervision. To reduce the possibility of choking, never give rusks when baby is lying down. Rusks should be chewed when baby is sitting upright. Do not give broken rusks to your little one. Use them instead to prepare purees. Give broken rusks into a clean bowl and mix with your baby's usual milk or fruit juice. Always feed from a bowl, not a bottle. It is important to prepare fresh meals and throw leftovers away. Rusks contain carbohydrate, which can cause tooth decay. Ensure regular dental hygiene from your baby´s first tooth onward.
Holle Baby Rusk with natural honey and butter
Holle Bio-Minis Baby Rusk
Ingredients
Demeter wheat flour** 84%, honey* 8%, Demeter butter** 7%, yeast*, vitamin B1 (added according to the law)
egg free
unsweetened